Regarding Engelbart, "The Mother of All Demos", and NLS: This was serious retro hardware!
The computer was a SDS 940 (which originated from the Project GENIE timesharing system at Berkley), featuring paged copy-on-write memory. The IO was in its more basic version implemented by TTY, but the visual IO seen in the demo was another story. The "Special Devices Channel" projected the output on multiple calligraphic CRTs, which were timeshared between users. The images produced by the CRTs were picked up by commercial video cameras, amplified and then sent to user-facing raster-scan CRTs (basic monochrome TVs without a tuner) via a closed-circuit TV network. The system featured two display generators, each driving up to 8 CRTs. The controller logic for this was built from vacuum tubes and reportedly required "one and a half people to keep those things running all the time" (Engelbart). On the plus side, sessions could be easily (screen-)shared as could be external sources, like video streams.
Here's a block diagram of the Special Devices Channel: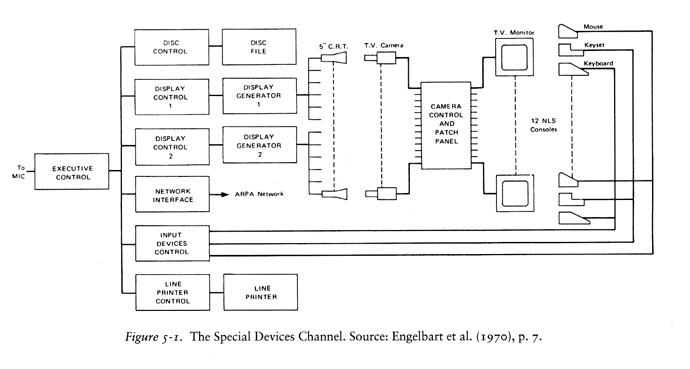 (Image, as well as technical info on NLS hardware, drawn from "Bootstrapping" by Thierry Bardini.)
It's an interesting solution, incorporating both design choices and unorthodox use of technology dictated by budget constraints.