I get the impression this book by James Peterson and Avi Silberschatz is a standard text. It's been through a few editions and the covers are quite interesting - especially the first.
History of Operating System Concepts - covers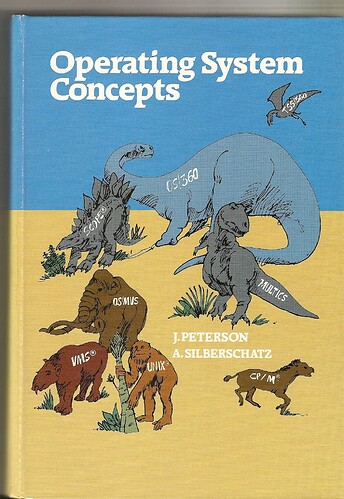 The First Edition was published in 1983 and was 548 pages long. On its cover were dinosaurs and mammals labeled with the names of the important operating systems of the time, including OS/360, Multics, Scope, OS/MVS, VMS, UNIX, and CP/M.
Key:
TSS/360 - Pterodactyl, in the sky
OS/360 - Brontosaurus
Multics - Tyrannosaurus Rex
Scope - Triceratops
OS/MVS - Woolly Mammoth
VMS - possibly a Teleoceras or other rhino ancestor
UNIX - some kind of ape, I think
CP/M - possibly a Mesohippus, or other horse ancestor