Logiker presents another Vintage Christmas Computing Challenge, this time it's about bringing a star onto the screen, not any star, exactly this one (the part in white):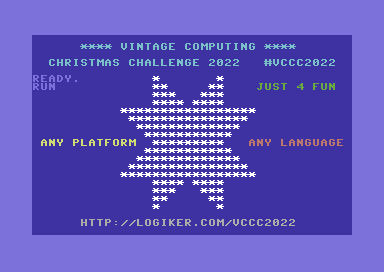 From the invitation:
As we know, Christmas can become a very busy time. But if you want to escape from that for a while, maybe the Vintage Computing Christmas Challenge 2022 might just be the right thing.

This time I chose another object obviously. It might look simpler than the last one. But who knows if it really is easier to implement? Due to its regularity and bigger size interesting solutions might come up.
The contest runs from Friday 2 Dec. 2022 until Saturday 26.Dec. 2022.
More on this on the homepage: