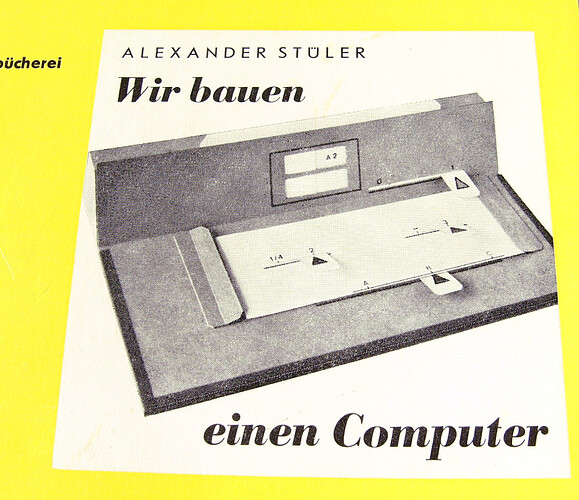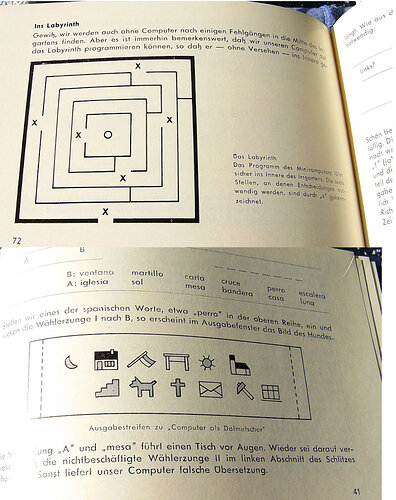 (Own pics. Publisher Aulis Verlag)
From coin to computer. Not a real one, but a rare 1969 book for making a paper computer for learning.
There are other paper computers turned out to be just sheets. This one has a casing, a display and levers. I mentioned this before, but as this seems to be rare and I only found a poor pic, I upload some pics and make a review.
Sorry, I can't scan the whole book. I don't have the time and it also would ruin it. And it's in German.
It is ~10x15 cm and has 92 pages. The first 30 pages are an introduction and the patterns for the parts. Someone has to upscale them either by scanning and printing out or by drawing it himself. You need thick cardboard or better thin wood. The base should be (at least) 17x30 cm.
But someone not only has to build the computer but also the input+output sheets for every "software". As this is too much work and I only had thin cardboard, I never built one.
Some selected software:
Weather forecast,
language translator
MasterMind
primes
Get into a labyrinth
Nim
Guessing your job
Computer can store images
Vintage and funny. But I wouldn't recommend it. As said too complicated to build and you can't learn much about computing although some mathematical software. But someone can expand it.