You want mass storage? You'll need: piano wire, 2000 strips of magtape, a bucket, a 5 horsepower motor, and skills in aerodynamics, hydraulics, magnetics, optics, pneumatics and of course mechanics.
I bring you, the noodle plucker, by IBM - a successful storage technology from 1964: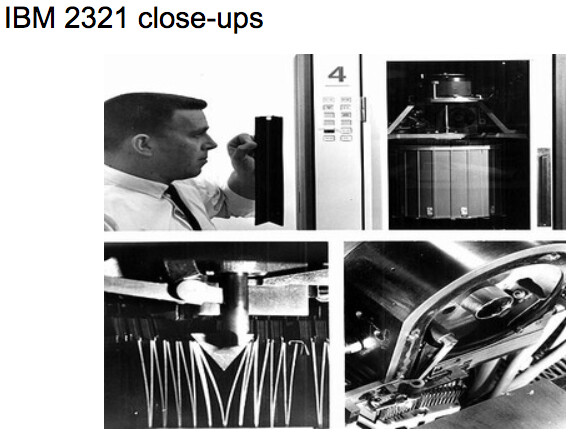 A bucket holds 2000 strips of magtape, spins into position so little piano-wire fingers can part the strips of tape to select the right one, the strip is then plucked from the bucket, whisked around a read-write cylinder which then reverses and threads the tape back into its cassette. Then the bucket spins again. Sub-second access time.
and when it thrashes…
"Up to eight 2321s could be attached … overall capacity of over 3GB. Reportedly the Data Cell required 23 liters of motor oil."
"the distinctive THUM-SLAM-KERCHUNK-WHISH of the data cell as the cells rotated into position and were locked home, and a magnetic strip was selected and flew around the read-write drum"
"I once heard about how the data cell came to be. The story was that it was done as an MIT senior thesis project by a student whose professor had asked him to build a storage device which used all known technologies. So it uses magnetics, pneumatics, mechanics, hydraulics, optics, aerodynamics…"
Edit: see also an amusing 3-page story "The 2321 Data Cell & Joe Rufin" here (Google Doc) (Original in Word format on Ed Thelen's site)
(previously posted as a comment to https://plus.google.com/u/0/114400057333000129075/posts/JDDNXeCgSSn (now lost))
Edit: better IBM link in the body, replacing IBM Archives: IBM 2321 data cell drive
IBM Archives: IBM 2321 close-ups