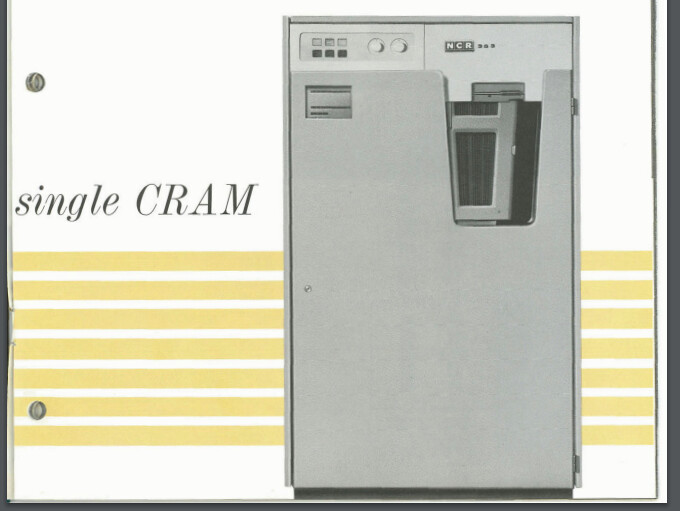 Via the Memory Guy:
Before there was DRAM (1969, Bob Dennard) or SRAM (1963, Robert H. Norman) there was another little-known random-access memory from computer maker NCR that was known as CRAM. The Memory Guy only recently learned of this technology thanks to a relative's visit to the NCR Collection in the Dayton History Museum in Dayton, Ohio
There's a link to a sales brochure at the CHM (28 page PDF) where we find:
CRAM reads and records data on mylar magnetic cards 14 inches long and 3½ inches wide. Each card has seven data recording tracks that can be individually addressed for reading or recording data. A single track has a storage capacity of 3,100 alphanumeric characters. Thus, each magnetic card has a total storage capacity of 21,700 alphanumeric characters.

Each CRAM file is designed to handle a deck of 256 magnetic cards with a storage capacity of over 5.5 million alphanumeric characters of information. Like reels of magnetic tape, the decks of magnetic cards have been designed in such a way that they can be easily mounted and removed from the CRAM unit. For ease of mounting and convenience in storing, the decks are housed off-line in a cartridge

When mounted on the CRAM unit, the deck of magnetic cards is suspended from two gating rods. The cards are individually selected by eight electronically controlled two-position rods. Each of the 256 magnetic cards has a unique binary notching configuration that permits it to be released from the deck when selected.

Once a card has been called for by the computer, and the rods in the CRAM unit have been properly set, the magnetic card is dropped from its hanging position on the rods. The cards are separated by 256 jets of air that permit the selected card to fall freely. After the card has been released, it will be pulled by means of a vacuum onto a rotating drum and quickly accelerated to a speed of 400 inches a second.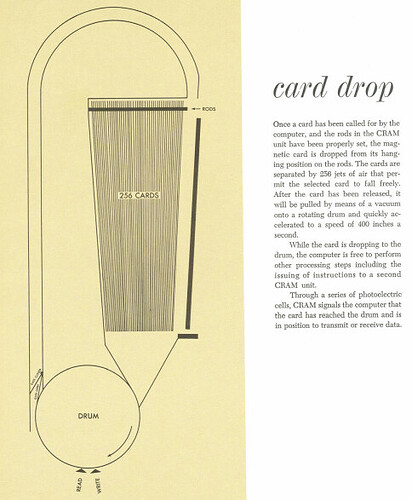 See also IBM's 1964 Noodle Plucker storage…