It turns out there's a connection between the Amiga and OS/2. It seems Commodore got a license from IBM, for REXX (or AREXX), by trading rights to elements of the Amiga user interface.
Here's the Workplace Shell from OS/2 version 2: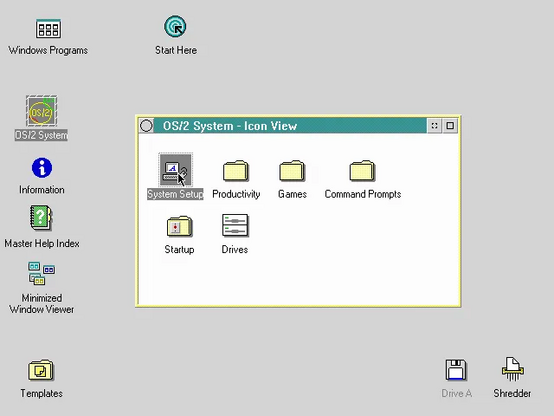 I found a couple of sites about OS/2 history which contain some info. The image above is from this first one:
OS/2 2.0 was released in April of 1992 (the same month as Windows 3.1) … This was a 32 bit, protected mode, multi-threaded, preemptively multitasking operating system with paged virtual memory capable of running software for OS/2, for Windows 3.0, and for DOS (version 5). … The Workplace Shell was a major improvement over the Presentation Manager of the prior release, and this GUI involved a small deal with Commodore for parts of the look and feel of the system. In return for some of Commodore's design, Commodore received a license for REXX which was seen in AmigaDOS 2.0.
And from OS/2 Warp History (which has further links within):
With Microsoft no longer doing development on the user interface, IBM was faced with creating this themselves. In this timeframe, a deal was made with Commodore. Commodore licensed IBM's REXX scripting language for inclusion in their AmigaOS, and IBM took many GUI design ideas from the AmigaOS for their new GUI.
In the linked David Both's History of OS/2 page we read:
REXX also appeared for the first time in OS/2 1.20 Extended Edition. REXX is a very powerful interpretive programming language which can be used for writing a complete application or as an extended batch language. I use REXX quite frequently to write everything from quick and dirty programs to do something one time, to very large, sophisticated programs which I use constantly.
I'm thinking REXX perhaps filled the niche which Basic filled in earlier microcomputers?
I posted on Mastodon about it here where [chexum] notes:
ARexx was around as an independent product by Bill Hawes since the Kickstart 1.x times, not as a Commodore/Amiga project. Although at the time ARexx was indeed coming around as the best thing since sliced bread, so maybe it indeed was desirable enough to discuss it with IBM
More on the Workplace Shell (WPS) on OS/2 World:
The WorkPlace Shell, A Powerful Jewel of OS/2 and eComStation. Part 1: Some Background