A few of the members here were able to meet in real life yesterday - @hoglet lent his lab space, and we spent quite some time chatting about retrocomputing and then went for a curry.
@drogon brought in a few projects-in-progress and treasured possessions, and @hoglet demonstrated some of his recent projects. Much fractal calculation occurred, in Basic, in C, and in FPGA. @drogon's Enigma board (not an Enigma-E) was of particular interest to me and to @Revaldinho. His Ruby board running BBC Basic on a 65C02 at 16MHz was also of great interest.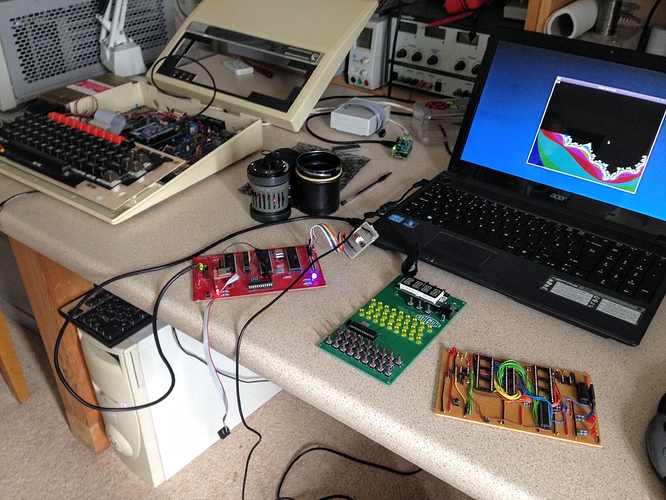 Not seen here, Rob brought in his recently-acquired Acorn Communicator and we had a poke about to try to understand the machine. It has a BBC Basic, probably a port or rewrite for the 65816, but probably limited to a 64k memory area. Further exploration needed! One useful bit of synergy was that we could use @hoglet's HDMI adapter dongle project to get a very stable picture on the LCD - this particular Communicator can drive a CRT but something about the signal is not friendly to LCDs.
Maybe some other members here live in reasonable travelling distance of each other and could meet up in real life?