Some days ago, I wondered, how many small companies used a C64 or even a vic-20 for business applications.
There was some software from Commodore like FILE (VICFILE), WRITER, SIMPLICALC and MiniMemb. Also from MicroSpec VIC Data Manager, Vic Inventory, Payroll, Mini Jini etc.
On the forum sleepingelephant I found some discussion including cover images and links.
Very interesting is Minigrafik and Minipaint (8K/16k expansion) but there are viewers for unexpanded vic. MiniGrafik Batch Processing Suite consists of several utilities for assisting with creation and conversion of graphics on the Commodore VIC20. Some really amazing demos & slide shows included on the disk.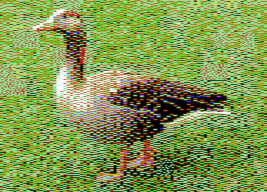 MINIGRAFIK batch processing suite - Denial
Theres also code (8 lines) for printing a Barnsley Fern fractal.