The IMSAI was, apparently, the finest personal computer - see the advert below - but was very closely related to the MITS Altair, and not entirely pleasing to Ed Roberts of MITS. Here's his take - he finds eleven flaws.
(More below the fold…)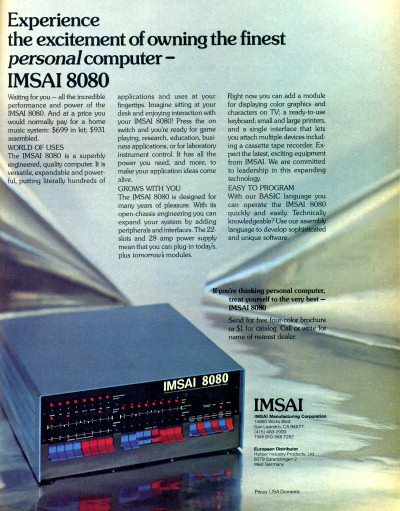 (Image from
Benj Edwards' page on the IMSAI 8080
)
Following on from Ed Roberts take, there's an interesting mail conversation with Roberts and IMSAI creator Joe Killian, in which we see estimates of nearly 20k machines sold:
The Ed Roberts Tribute page (by Thomas "Todd" Fischer)
And then, see this Q&A where 'Raffzahn' mentions more than a few 8080-based machines:

Let's see what gets mentioned - links in the Q&A:
Kyotronic 85 series: TRS-80 M100, Olivetti M10, NEC 8201/8300, etc
SOL 20
Compucolor II
Interact Home Computer
Micronique Interact
DAI Personal Computer
Machines based on clones such as the Russian КР580ВМ80А or the Polish MCY7880:
Micro-80
Радио-86РК
Vector-06C
Orion-128
Tesla PMD 85
And mentioned by 'Wilson': Specialist; Baltijets Juku.
And by 'DmytroL': Lviv PC-01.
And by 'joan': the Transam Triton.