Currently, I'm very interested in (early) database systems. Probably the most useful software (next to games, mainly on home computers). Databases on home computers also exists, but a Vic-20 as office computer (like on my recent ads) is only suitable for very small companies. A C64 is acceptable but the real thing are terminals and mainframes or similar with green or amber displays and masks on screen. Like on my recent Nixdorf post.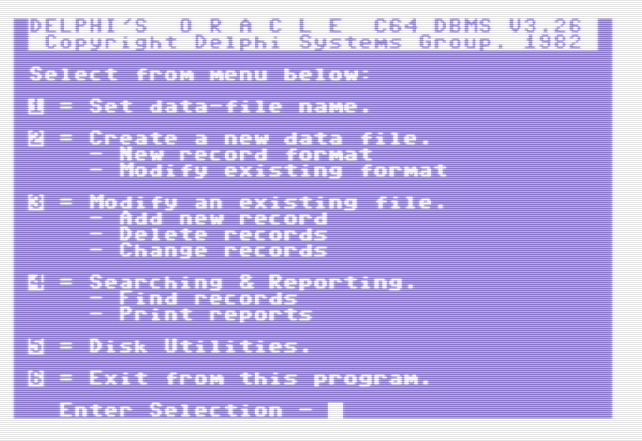 We recently talked about speed and I found this JES2 log, taken from CBT224. A mainframe, probably IBM, took 3.62 minutes in 1994 for reading 78 punch cards and printing 20,678 records (on real hardware). To me it's sort of slow. (Tape involved. Is printing here maybe writing to tape?)
1 J E S 2 J O B L O G – S Y S T E M A F C 1 – N O D E A F C N Y C T A
17.03.06 JOB01194 IEF403I ITMSREPT - STARTED - TIME=17.03.06
17.03.14 JOB01194 +ITMI000: ITMS000A HAS STARTED
17.03.19 JOB01194 +ITMI001: ITMS DATABASE HAS BEEN OPENED
…
17.06.42 JOB01194 -ITMSREPT STEPC ITMSTEP 00 386 933 .01 .00 .1 8527 1 0 0 0 0
17.06.43 JOB01194 IEF404I ITMSREPT - ENDED - TIME=17.06.43
17.06.43 JOB01194 -ITMSREPT ENDED. NAME-ITMS REPORTS TOTAL TCB CPU TIME= .11 TOTAL ELAPSED TIME= 3.6
17.06.43 JOB01194 $HASP395 ITMSREPT ENDED
0------ JES2 JOB STATISTICS ------
10 NOV 94 JOB EXECUTION DATE
78 CARDS READ
20,678 SYSOUT PRINT RECORDS
0 SYSOUT PUNCH RECORDS
2,258 SYSOUT SPOOL KBYTES
3.62 MINUTES EXECUTION TIME
1 //ITMSREPT JOB (ACCT#),'ITMS REPORTS',MSGLEVEL=(1,1), JOB01194
// CLASS=A,MSGCLASS=X,NOTIFY=SYSSTEI 00002000
//* 00016300
There is also a sample database and sources like on CBT923 on CBTTAPE (SQLITE for z/OS Unix) . Most is only useful for Hercules users. Although there are PDF and even some few Windows software (inside the zipped XMIT files).
I also like books (mainly physical books). Many interesting books are online, especially on bitsavers. For IBM: DB2 and IMS (Information Management System). The introduction of the latter one has many good illustrations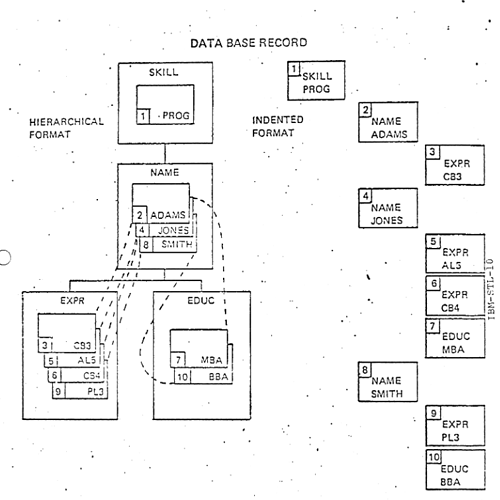 I also found database system DMS-170 for CDC.
So many different databases and so much to read. No need for buying books, rather a good e-book reader.