It's one of my hobbies, really, to worry about accuracy and to try to find small differences. For example
PRINT 7E7+1234-7E7
will give me 1234 when I'm using a Basic with 5 byte floats, but 1232 when using 4 byte floats. That's more or less as expected, although I might have tried harder to see the effects of rounding.
But I've become puzzled by something. When are two things not equal, but their difference is zero? I didn't expect that - specifically in the MS Basic found on the PET, as seen in @NoLand's online emulation. I wonder if I'm doing something wrong.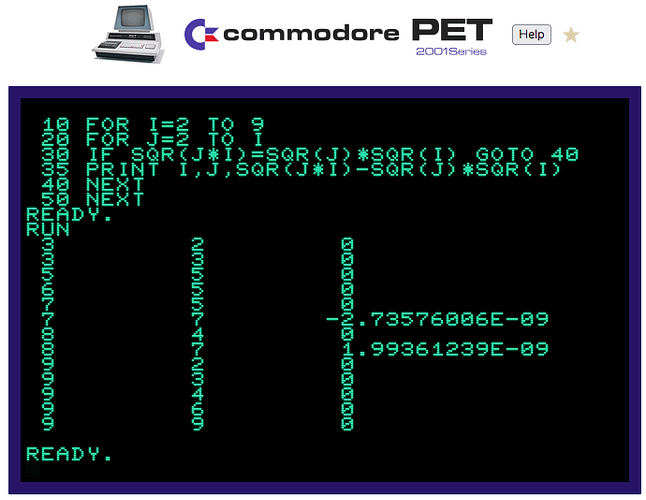 Here's the program: the idea is to find pairs of numbers which illustrate the limited accuracy of square roots.
10 FOR I=2 TO 9
20 FOR J=2 TO I
30 IF SQR(J*I)=SQR(J)*SQR(I) GOTO 40
35 PRINT I,J,SQR(J*I)-SQR(J)*SQR(I)
40 NEXT
50 NEXT

The results on a Beeb are much more as expected - if the two expressions are unequal, their difference is not zero.