Running order and links to YouTube and Discord here:
http://vcfmw.org/virtual.html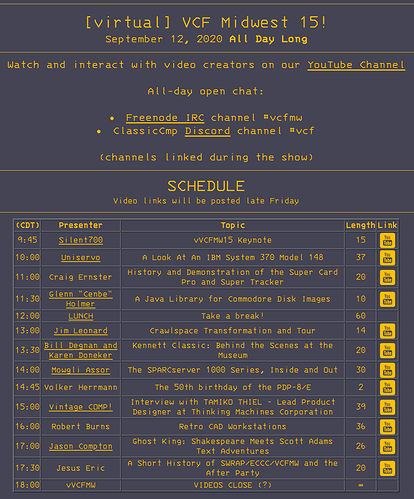 Look, a lunch break! They may have learned from VCF West.

So the videos are up now… just listening to the Tamiko Thiel interview (Thinking Machines design) and there's some really interesting notes in there. There's a transcript too, and the video is a slideshow - especially enjoyable if you like ribbon cables.

And here's a rarely seen D-116 from Digital Computer Controls, a clone of the Nova (video thumbnail is a terrible choice!):

A commentator notes:
An important customer for the D116 was Nixdorf Computer AG in Germany (now a part of Siemens), which used the D116 as basis for their successful 8870 minicomputer series - see https://www.8870adventures.com/who-were-nixdorf.html for for some information
Edit: this is a nice one too:

I really liked the PDP-8/e birthday video.