David J Bradley tells the story, starting in 1980 as he finishes his work on the DataMaster…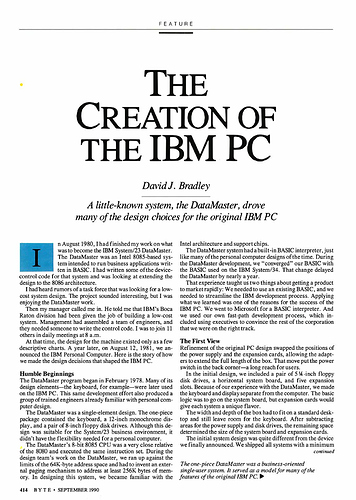 In August 1980, I had finished my work on what was to become the IBM System/23 DataMaster. The DataMaster was an Intel 8085-based system intended to run business applications written in BASIC. I had written some of the device-control code for that system and was looking at extending the design to the 8086 architecture.

I had heard rumors of a task force that was looking for a low-cost system design. The project sounded interesting…

Then my manager called me in. He told me that IBM's Boca Raton division had been given the job of building a low-cost system…

At that time, the design for the machine existed only as a few descriptive charts. A year later, on August 12, 1981, we announced the IBM Personal Computer. Here is the story of how we made the design decisions that shaped the IBM PC.
via Wikipedia on CGA hardware

via this article on hackery to produce a 1024 colour mode in CGA
via this thread on a new trick for Acorn's Electron
See also All the BYTE issues, scanned