IC logic devices had been available from about 1960/61 but at a cost that was prohibitive to all but the aerospace industry. Examples of early use are the Apollo Guidance Computer (AGC), and the D-37C guidance computer built for the Minuteman-II missile project.
The 1960s were marked by three distinct logic families commencing with Resistor-Transistor Logic (RTL), then Diode-Transistor Logic (DTL) and finally Transistor-Transistor Logic (TTL). Each was a significant improvemment over the earlier family, with a greater range of logic functions available and at a lower cost.
As the 1960s progressed, costs reduced and the IC manufacturers found new markets for their product, which included the mini and mainframe computer industry. Design Engineers were encouraged to incorporate the ICs into their new designs, and sold the concepts of greater reliability, lower assembly costs, higher performance and greater logic density. However for a company like DEC, that had a lot invested in discrete transistor modules, since 1957, the breakeven point between discrete and integrated logic would be a complex business decision and not reached until about 1967.
By the late 1960s, all three logic families were available from multiple vendors and in a variety of packages, flat-pack, DIP and metal can. Plastic DIP packaging would provide a lower cost option for commercial grade devices.
Fairchild Semiconductor, Texas Instruments and Signetics were the principal manufacturers, but there were several European suppliers including SGS, Ollivetti and Telefunken.
This article by David Laws of the Computer History Museum describes the state of the semiconductor industry in the 1960s as TTL eventually became the dominant family.
For those interest in the costs of ICs, I have located a price list from Lafayette component distributors from 1967, which offers some representative prices.
A SN7400 quad 2-input nand is listed at $6.50
A SN7474 dual flip-flop is listed at $11.40
These prices were way beyond the means of any computer hobbyist. However 4 years later in the 1971 Newark catalog, the SN7400 was $1.56 and the SN7474 was $3.11.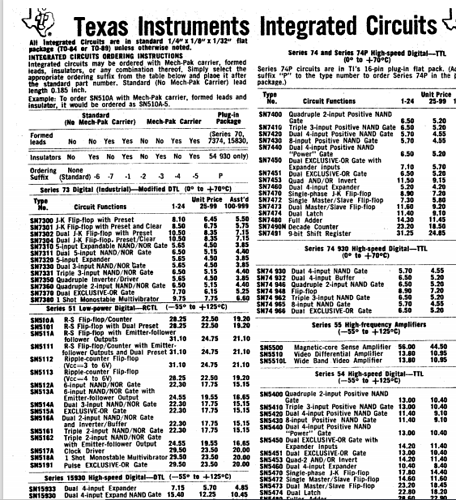 The TO-84 flatpack is a surprisingly compact package, approximately half the size of the DIP. It's the forerunner of SMT packaging, with a 0.050" pin pitch which would appeal to the aerospace industry, where high density and reliability would be paramount.