Excuse the title: I've found some things which seem to me to be related. Let's start with a picture: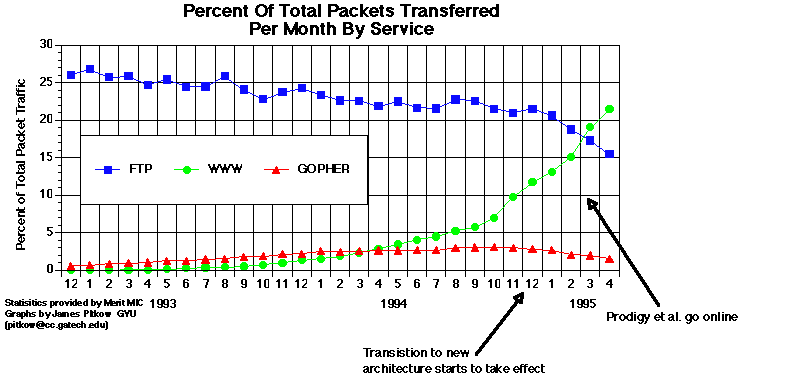 It's from Cal Lee's 1999 page
Where Have all the Gophers Gone? Why the Web beat Gopher in the Battle for Protocol Mind Share
(Notably, "mind share" is introduced as a new and unfamiliar term)
And I got there from Benj Edward's piece

which has an interesting link to
a post from the Gopher team
at the point they decided to (try to) charge fees for commercial use. The line taken is, if you're not commercial, calm down, nothing's changed, if you are commercial, talk to us and let's decide how much you'd like to pay. An unconventional line.
And as it happens I have a couple of links to short TV pieces on the novelty that was the Web, and the Browser, with a few screenshots of FTP and Gopher activity by way of contrast:

via this post on HNF's blog (in German, natürlich)
Pull quote from Benj's piece:
Believe it or not, there are still Gopher servers on the internet, but they're mostly run for nostalgia. Because modern browsers don't support the protocol, you'll also have to get a stand-alone client or browser plugin to explore Gopherspace.

A great place to start is the Overbite project, where you'll find Gopher plugins for many modern web browsers and even a client for Android phones. The best server to check out first is gopher://gopher.floodgap.com .

Have fun in Gopherspace!