I want to share a 70s/80s childhood story.


Quelle was a German mail order catalogue with small order shops in many towns and also some larger compartment stores.
They offered almost everything including pets (with shipping), horses (ponies) and houses.
Quelle is of interest for several reasons
-they offered computers and similar, I was especially interested then in the Casio pocket computers, newest wrist watches, video game consoles etc. Own brands Meister-Anker for watches, Revue for cameras, Good Play for toys, privileg for calculators etc…
The prices were not that cheap, but they had the newest stuff. I ordered then mainly watches. I think game cartridges were 119-139 DM (most expensive colecovision?).
Here is one catalog sample

(edit: OMG cable 139 DM, 10 floppies 119 DM (60 EUR). Endless paper 30 DM. The only thing that remained the price is the book and the software. (You can't compare the hardware).
-they had rebranded products like chess computers and maybe some own products (direct import)
-rebranded, maybe translated software/video games brand Quelle Soft
-they early had squared price stickers with magnetic stripe (maybe the first in Germany ?), read with a light pen, I think first in yellow, later in blue?
-order by letter/postcard, probably OCRed
-parking card was paper card with magnetic stripe
-data center. I always wondered how it looked like and I recently found b&w photos of the mainframe (Standard Elektrik Lorenz SEL ER56, 1955-1958 designed by Bauhaus architect Ernst Neufert and some of the office and terminal in the huge PDF "Rechnen mit Machinen" I mentioned here
Rare computers 1940s - 60s Zuse SM1, SAPO, RAYDAC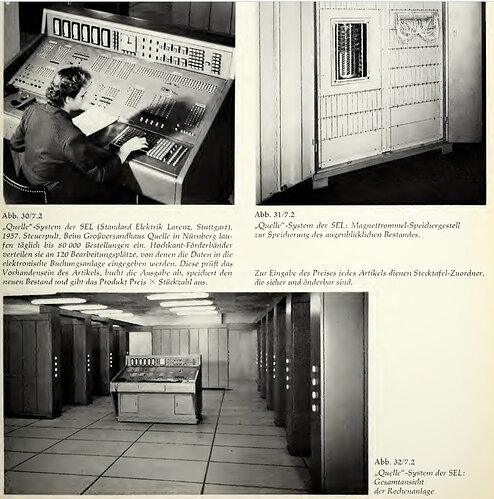 pages 191-192
Some better, watermarked stock photos are on the web. I wonder about the software, but probably a special, dedicated one.
We often visited the big store on week-ends. But I have few memories. I think we never bought a computer there. (As there were other shops).
Who remembers Quelle, and what about mail orders in other countries? More famous is of course Radio Shack.