The UK's Open University provided the PT501 for the "Microprocessors and Product Development" course in 1979. Intel's 8049 was an 8-bit microcontroller with 128 bytes of RAM and 2k of mask ROM on chip.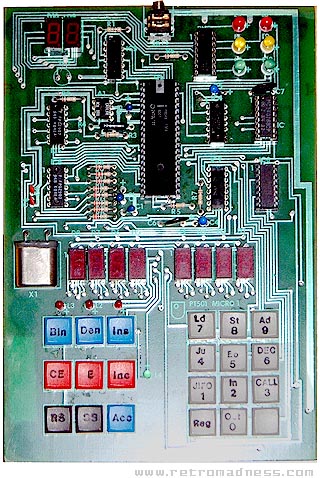 Photo credited to Chris Millard here on old-computers.com.
There's more info here
https://www.oldcomputermuseum.com/pt501.html
and another photo on this wiki:
http://www.compvter.org/index.php/Open-University_PT501
Although the 8048 datasheet tells us we can attach external RAM and ROM, there doesn't seem to be any on this board. Which is a conundrum: it's not clear we can execute code from RAM. Is it possible the OU created custom firmware which includes an interpreter for a simple virtual machine which does execute from RAM? In any case, 128 bytes of RAM isn't much. The examples given are a traffic light controller and a temperature display - the board has the peripherals to support those.
This machine is a very rare find because the OU loaned it as course materials and then took it back.