Thanks - an interesting area of computer history which is new to me.
I found a 40 page user manual archived here (PDF, in Russian) which I've uploaded for easier reading here:
The OCRed text appears in context in this PDF and is available for possible translation here.
Here's the first paragraph:
SUMMARY
In the present description of the machine "Nairi" are given
main parameters, a brief description of the main
devices, command structure and system of operations. Also
characteristic examples of solving problems in the mode
automatic programming and counting mode.
This description gives a general idea of the machine.
"Nairi".
Other snippets:
"Nairi" is a two-address program-control
my machine with natural command execution order.
The form of representation of numbers is with a fixed point.
Operations on floating point numbers are performed
subroutines. The number system is binary. Bit depth
machines - 36 bits.

The machine's memory consists of random access memory
th device, made on ferrite cores,
with a capacity of 1024 operational and 5 fixed addresses and
long-term storage device on oxyfers
with a capacity of 16384 addresses.
As ever, the OCR is not perfect, and neither is the machine translation…
That PDF comes from Norayr Chilingarian's website, which has a page on the Armenian computers Nairi, Razdan, and Masis here which links to this gallery of photos. Here's Nairi (larger version within):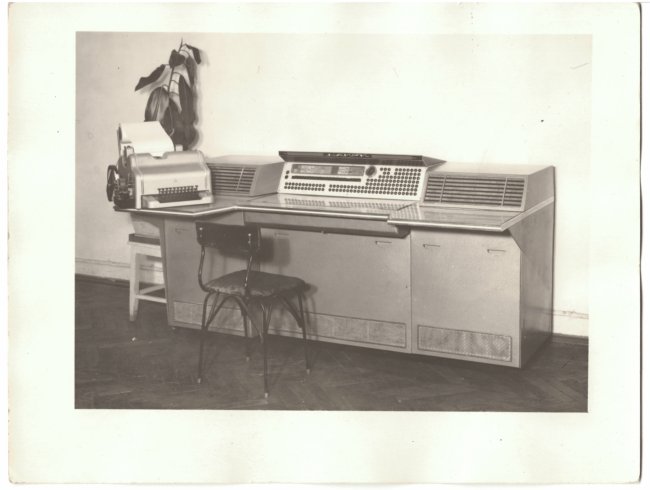 Edit: I was previously looking at the incomplete record in the Wayback Machine, not having realised the site is still live. In the archive, not all of the full size photos have been captured, unfortunately, and none of those relate to Nairi. But I found 10, 17, and 27 (and a few more):
"Magnetic tape storage"

"Razdan 2"

[uncaptioned]

Regarding the uncaptioned, last image: I never had a feeling that intense that a computer may have actually been steam powered (thanks to the prominent HVAC plumbing).


Not meaning to make fun of a remarkable machine, though.
This is very interesting, thanks! I'm now downloading the manual to read it…
I found some more links which might be of interest:
From "History of domestic computer technology" at the Russian Virtual Computer Museum:
Electronic computers of "Nairi" series (Google translation to English - original here).
The site has an English language version but without this page. But Nairi is mentioned on these pages:
Sergey Nikitovich Mergelyan
An Essay on forming the Unified System of Electronic Computers (Part I)…
Historic Review on the ES Computers Family. Russian Virtual Computer Museum
In "Unified Sytem" we read
Rather interesting scientific developments were performed in Erevan (Armenia), but an industrial base for their manufacturing was not available there. Later the Erevan computers were manufactured by the computer plant in Kasan (capital of Republic of Tatarstan). In spite of that, a soon after the Erevan scientists managed to complete the USSR first 3rd generation development. That was mini-computer NAIRI-3. Some structural features (it was not compatible with any other machine) limited its applications, therefore, after 1975, it was "re-incarnated" as NAIRI-4 with structure rather similar to mini-computer PDP-11 (of DEC).
In "Sergey Nikitovich Mergelyan" we read
In 1960-1970s various models of popular new computer family NAIRI were produced. There were: NAIRI-1, NAIRI-2, NAIRI-3, NAIRI-3.1, NAIRI-3.2, NAIRI-3.3, NAIRI-4, NAIRI-4.1. All these machines were designed in Erevan. Computer NAIRI was called "Computer for engineering calculations". It was intended for solving various scientific, engineering and economical problems. Main advantages of NAIRI family were: friendly interface, what enabled communication (with the computer) in a language similar to the common mathematical one, and the principles of microprogramming which were widely used in it. Already in the 1980s NAIRI family was extended with multicomputer and multiprocessor complexes NAIRI-4B, NAIRI-4B-S and "KOVER". They were compatible on the software level with famous computers PDP (PDP-11/40, PDP-11/44) of DEC Corporation.

Institute ErSRIMM was awarded the USSR State Premium for design and realisation of the computer family NAIRI.
Elsewhere, on the Kazan Computer Museum blog, we have another history:
The third computer - "Nairi" ("Essays on the history of KZEVM. Article 10.") (link is to Google translation to English. Original here.)
Perhaps see also some non-English Wikipedia pages
Armenian: Նաիրի (համակարգիչ)
Russian: Наири (компьютер) — Википедия
Ukrainian: Наїрі (комп'ютер)
In fact I originally found a Dutch PDF (brochure of Nairi 2) on
by u: retrostefan78
during research for another computer. I first hesitated to post it. He already posted his website here. But then I found the great color photos.
I don't like to post many photos, so I've just posted my favorite one and gave a link.
Sorry, that I haven't posted text with it. Especially on evenings I'm often too busy .