From the then-new and feisty Linköping University, based on the multi-chip IMP-16 processor from NatSemi: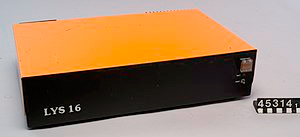 More info in this document (in Swedish, amenable to machine translation)
the whole Lys machine was built in a bulletproof box of iron plate that weighed about 10 kg, because it was cheapest
To get the assembler started or to get something started in this machine at all, we came to the conclusion that this with cassette tape was very nice. We would run 1200 baud into a small card that had FSK demodulation and then into the CPU or the machine and it was this that was the most troublesome of all. Floppy disks were not invented. The guys at IBM hadn't budged yet and started Seagate/Shugart
We wrote to two guys who were in a garage in California and we got a response from a guy named Wozniak. I have that letter left somewhere and I didn't find it until today.

They also kept on but they had bet, we thought, the hell wrong processor. It was one of those 8-bit 6502 or 6800 that they had bet on and that was crap (laughter). Here we really had the solution: a 16-bit machine. It was very nice too. 8 MHz clock if I don't mind, cycle time of 5 ns. It was pretty good. Misery in fact at that time for our oscilloscopes could only show about 200 ns so we saw sine waves everywhere. At that time, oscilloscopes looked like ones where submarine periscopes, they were round and plug-in modules and went on wheels and were hot as hell.
The Swedish wikipedia entry has more detail too (English translation here):

The essential basic idea behind the project is to give the teaching system, as well as private individuals, a tool, which has the potential to introduce the computer concept in a soft and effective way without sacrificing its inherent power. A computer in physical miniature format and inserted into a system environment that is perceived by everyone as familiar and natural, provides schools and educational institutions with an educational tool that, while being able to make significant contributions to computational processes, learning processes and laboratory exercises, can also contribute to disperse the aura of mysticism that computers have become known to.
And more here too (in Swedish) with photos: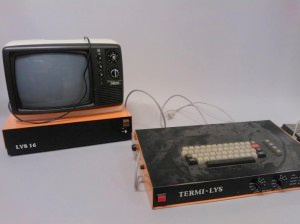 via this request for a survey of contributions outside of America.