Let's see what we can find out about efforts to provide programming languages using keywords drawn from anywhere other than English. (APL need not apply!)
BASICOIS is a French dialect of Basic, probably from Quebec. Here's a program, from L'Ordinateur Individuel Magazine (page 78 of issue 0010):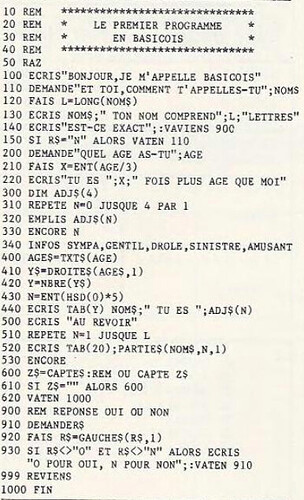 We see these keywords:
FAIS, ECRIS, DEMANDE, VATEN, INFOS, EMPLIS
REPETE…JUSQUE…PAR…ENCORE
SI…ALORS
VAVIENS… REVIENS
FIN
as well as DIM REM and RAZ (clear screen?) and various functions, such as DROITE$ and so on. Is HSD RND?
Somewhere else, I see hints of a LOGO en Français.
And it seems there was an LSE (Language Symbolique d'Enseignement) but I think that may be from the Francosphere, not a dialect. In fact Wikipedia (well, of course) more or less describes it as a structured Basic, although L'Ordinateur Individuel says it is très différent.
There's more here: