Here's the internal IBM forecast for sales volume of the Personal Computer, whatever that was to be: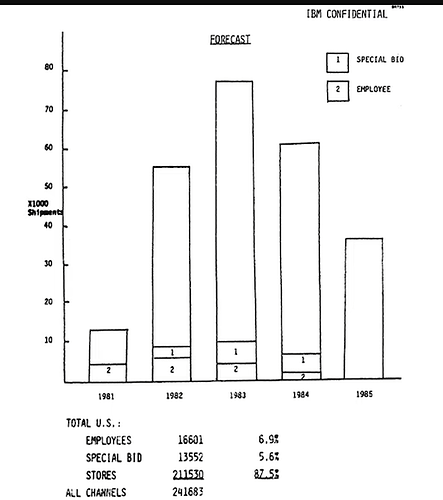 This is the slide that IBM used to make a decision about the future of personal computers. It is the costliest slide in business history. This is a $200 billion slide.
The above diagram, caption, and the following quotes are from this article.
From the article:
This product [the personal computer] was so funky that the theory was that pursuing it was going to kill Apple. That was the goal: get people back to real computers [large mainframes] because real men use big machines. It was nine men in the room making this call, and they got it totally wrong. The correct answer was 25 million units sold over that five year period.

So, they were a little bit off and they said, "Okay, 241,000 units, a couple thousand dollars a unit. Well, it's not worth developing a chip. Intel, give us the chip. And there's this kid from Seattle, Gates or something, who has got an Operating System called QDOS. He'll give it to us for free, we'll put it on the machine, we'll put it in a box, we'll call it an IBM computer."

This was the moment they almost lost the future of the company, because they could not imagine that the world could be so different, that people would like a box with 16K of memory in it. That just seemed inconceivable to these nine men, who were the smartest people in their industry, who knew everything about what they were doing and yet still got it completely wrong. And it literally almost killed IBM as a result. And of course, they no longer make PCs because they could no longer compete, et cetera. This slide is why Bill Gates is one of the richest men in the world. If IBM had said, "You know, maybe there really is a future here, and we'll develop our own operating system and our own chips," it might've been a very different story.
As I understand it, because the forecast was so very wrong, IBM priced the machine according to low volumes, and in the short term made much more profit than they expected. At the same time, they were content to buy in the processor and the operating system, and use commodity parts. Their expectation was that the Personal Computer was not something with a future, and that Apple would fail, and Microsoft were irrelevant.