At last night's ABUG (Acorn-centric user group) one of our number made a claim which he later felt he had to withdraw. He thought he'd seen a relatively definitive statement of how many Basic dialects there were (or are) - I think it was between 200 and 300. He's had a search, and I have, but we can't find any such claim.
Anyone?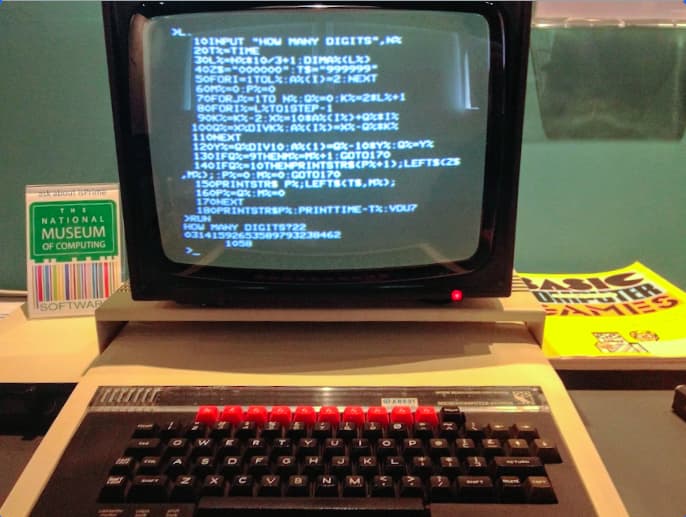 I'm also interested in unusual but useful features of Basic dialects which might be good to adopt and might not be widely known. (Inbuilt assembler, complex numbers, string slicing, extended precision arithmetic…)
For a bit of related reading matter, try these:
BASIC wasn't designed to change the world. "We were thinking only of Dartmouth," says Kurtz, its surviving co-creator. (Kemeny died in 1992.) "We needed a language that could be 'taught' to virtually all students (and faculty) without their having to take a course."
"Our vision was that every student on campus should have access to a computer."
In the past, Kemeny and Kurtz had made two unsuccessful stabs at creating computer languages for beginners: Darsimco (Dartmouth Simplified Code) and DOPE (Dartmouth Oversimplified Programming Experiment). But this time they considered modifying an existing language.
An early manual stated the maximum program length as "about two feet of teletype paper."
… it's possible that Dijkstra was exaggerating for dramatic effect. BASIC wasn't his only bête noire among programming languages: He also spewed bile in the direction of FORTRAN (an "infantile disorder"), PL/1 ("fatal disease") and COBOL ("criminal offense").
The single most influential book of the BASIC era was not a textbook–at least not officially. It was 101 BASIC Computer Games, later known as BASIC Computer Games and edited, in both versions, by David H. Ahl.
Kemeny and Kurtz were exceptionally disappointed with what others had done to their creation. In 1985 they published a book, Back to BASIC, which bemoaned the crudeness and inconsistency of Microsoft BASIC and other variants available for microcomputers. They titled the chapter on PC-based BASICs "What Went Wrong?" and called them "street BASICs," a moniker meant to sting.

BASIC's creators didn't just complain about what had happened to the language. They also founded a company with a meaningful name–True BASIC–which produced a version that added new features while preserving the original Dartmouth BASIC's original vision. Unlike Microsoft BASIC, True BASIC was also designed to be the same language, no matter what computer you ran it on.

Kurtz says "We thought we could do some good by implementing the same language (literally) on the different computers. We were wrong. The different computers came up so thick and fast that we, a small company, couldn't keep up."