I'm still checking the Swedish Elektronik magazines and found these boards in June 1970, page 24 (b&w). There called SYSCOM ™ pinboard programming cards. I haven't found anything on the web with that.
I wondered, especially about the paper cards (these are punched in the magazine). Later I found a PDF on bitsavers. And the patent #3405384. I still haven't read it all.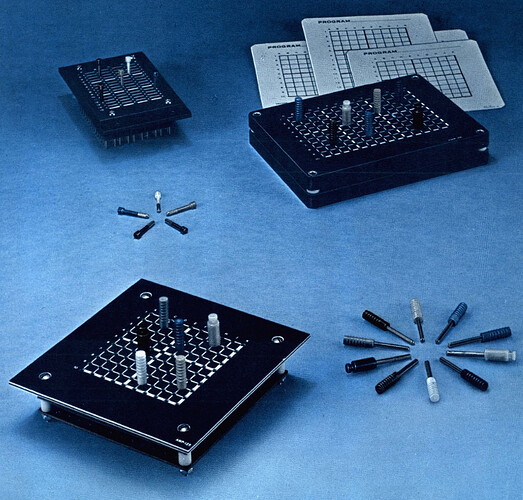 AMP (then written as A-MP) founded in 1941 as Aircraft and Marine Products, now TE Connectivity.
These Matrix boards were used for
-Digital memories
Sequencing Devices
Communication systems
Data processing systems
automated process control
Analog function generators
i/o switching
instrumentation
vending machines
test equipment programming
http://www.bitsavers.org/components/amp/catalogs/1976_AMP_Engineering_and_Purchasing_Guide/1976_AMP_Engineering_and_Purchasing_Guide_21.pdf
A very similar board is in issue 4/1968 called CONTROLOX, 10x10 pins, 63x63mm, company Oxley.
Maybe the Radio + TV magazines are more of interest as home computers are there. Like IMSAI 8080. But who knows Swedish?