A commemorative plate is thrown, as a challenge:
And the answer seems to point to the ARMAC, and three individuals who worked on it. See
ARMAC | Unsung Heroes in Dutch Computing History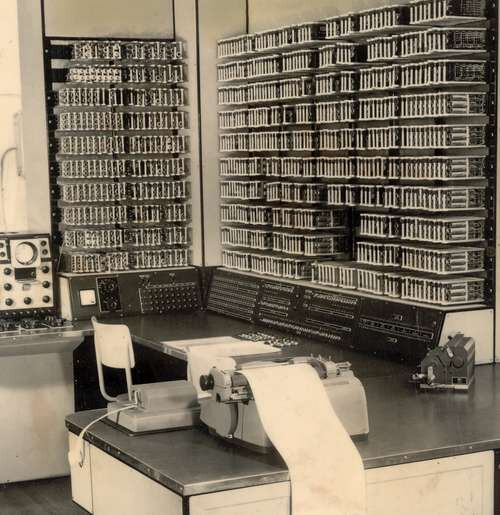 ARMAC was a one-off built at the Mathematisch Centrum with the main storage being a 56 track drum, but with a core memory with two-track capacity acting as a buffer, allowing it to operate as a bit-parallel machine, and perform 50 times faster than the predecessor bit-serial machine, ARRA II.
The ARMAC had two computing registers. The opcodes used 5 bits and addresses took 12 bits. Furthermore it was possible to use subroutine jumps, by using a link in a register. The computing machine consisted of 1200 tubes and consumed around 10 kilo Watt.

… a sub-routine was available to divide. Since division was very slow, most programmers decided to multiply with the inverse instead of performing a division. To illustrate the performance of the ARMAC:

Addition and subtraction of two numbers took 416 microseconds.
Multiplication of two numbers took 5.4 milliseconds.
Moving a track of 32 words took 14.6 milliseconds.