So this is what the mystery box contained …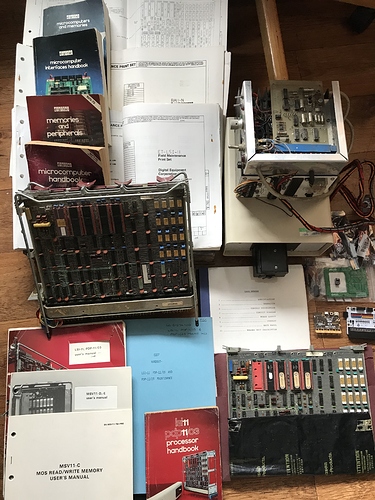 An interesting contrast between the ends of a computing spectrum; a fully populated Unibus frame from a LSI 11/03 (but no case/PSU) and a BBC Micro:Bit with a breakout board.
(Also a high speed paper tape reader (RS232 output), that I have no idea what use I can put it to.)
My elder brother (the donor) tells me that the LSI 11/03 worked (with the replacement PSU) when he last used it … 30 years ago.
But it least it comes with a comprehensive collection of books/manuals and a spare CPU board (but no software). So I think I have a good chance getting it running again. (Though I might need some help connecting a terminal.)
I need to finish a few projects I currently have on my small workbench before starting a new one, which will give me time to research exactly what I have got here, and make a plan for slowly setting it to work again.