I found this machine in an unusual way… the following picture is from
Science Museum Group Journal - Understanding storm surges in the North Sea:…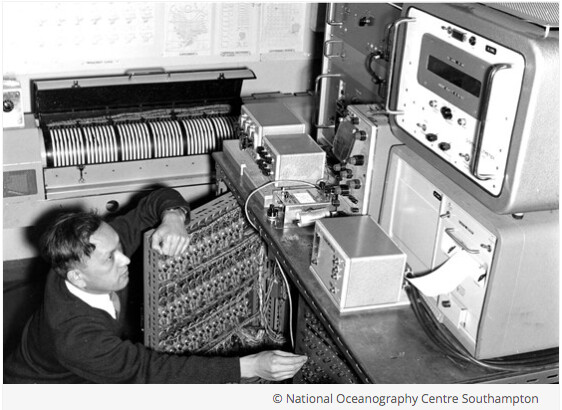 Shizuo Ishiguro with his electronic storm surge modelling machine, c.1968
The article leads with
One of the key exhibits is a newly acquired machine for modelling storm surges in the North Sea. Designed by Japanese engineer Shizuo Ishiguro, the object offers a way to explore the far-reaching impact and relevance of mathematical work
The machine is preserved in the permanent collection, evidently in a slightly later configuration, as it now has a PET, presumably(*) for control or logging: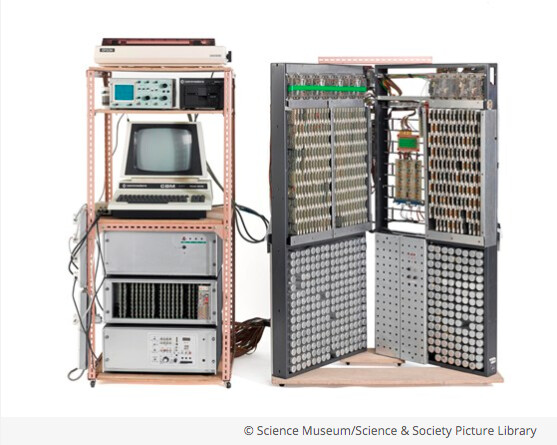 Shizuo Ishiguro's electronic analogue storm surge modelling machine, 2015
More story and more analog computers in the article. There's also a gallery with more views:
Ishiguro came to the UK from his native Japan in 1957, invited as part of a response to the devastating storm surge of 1953.
The 1953 North Sea flood is considered to be the worst natural disaster in British history
And how was it I searched for this machine? Because Ishiguro's son, Kazuo, the celebrated writer, mentioned it in his Nobel lecture:
I had come to England, aged five, with my parents and sister in April 1960… My father was a research scientist, an oceanographer who'd come to work for the British government. The machine he went on to invent, incidentally, is today part of the permanent collection at the Science Museum in London.
(*) Edit to add: Wikipedia says
The physical structure of the computer comprises two panels containing the electrical grid used for the simulation, and a separate input/output section. Inputs were made using a Commodore CBM 8032 Computer with 5¼" floppy disk drives; the output was displayed on an Advance Instruments OS-240 oscilloscope and recorded photographically.