Yesterday I started playing with a new single board computer, freshly fitted with a 6309, both board and chip courtesy of @Revaldinho: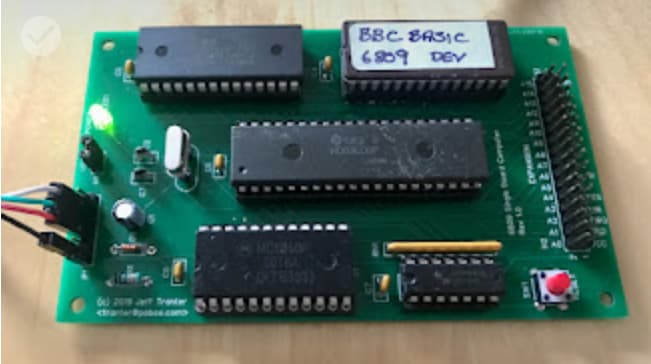 You'll notice the board design is by Jeff Tranter, who used Grant Searle's one-chip glue circuit design as a starting point. And you'll notice the BBC Basic label: Dominic Beesley wrote a 6809 port (and also a 6309 port) and @hoglet crammed a mini-MOS into the same 16k ROM, so the machine boots to BBC Basic. (Jeff's original boots to Motorola's minimal machine monitor ASSIST09, and includes an extended MS Basic.)
Here's a short program running: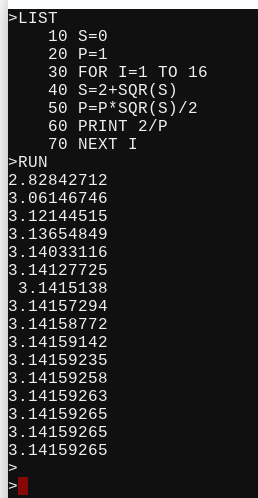 And here's a longer one - @drogon's ASCII Mandelbrot, which comes out in about 7 minutes in this case: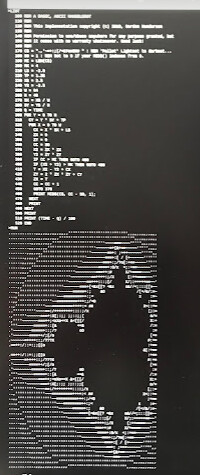 Here's the evidence that it's a 6309 inside - test program courtesy of @hoglet: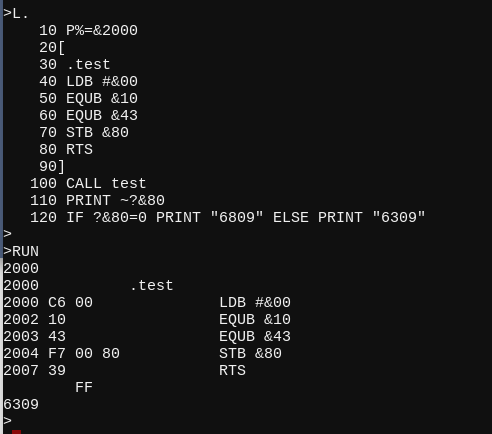 Unfortunately buying 6309 on ebay doesn't always net a 6309 - sometimes it's a 6809. @Revaldinho ended up with a mixed bag but I was lucky to get one of the genuines.
What's a 6309? It's a very compatible licensed copy of Moto's 6809. No, wait, it's got hidden modes and hidden registers and extra opcodes! The thing is a maze of undocumented but solidly useful extra features. If the 6809 is the best 8 bit micro - and clock speed apart it might well have been - then the 6309 is from the future.
And Dominic's 6309 version of BBC Basic uses the extra opcodes for faster arithmetic… although I haven't yet run it. (The 6309 being a bigger machine, the in-Basic assembler is bigger too, and there's not room to squeeze that 6309 assembler in to the 16k Basic+MOS build, so the 6309 Basic I hope to run before long will only have a 6809 assembler. Hope that's clear!)