There is a very interesting discussion of floating point representations here:
https://groups.google.com/g/alt.folklore.computers/c/3YfodWFJCQc
The description is a little bit confusing, but it basically posits that there are two common layouts for floating point; both of them store the exponent and then the significand, but they differ in where they store the sign of the significand. Formats designed for hardware floating point tend to store the sign of the significand up front, while formats designed for software floating point tend to store the sign of the significand with the significand itself – presumably to make calculating the final value easier.
It seems that the original author has an interesting page on floating point numbers here, where he categorizes these two formats as "Group I" and "Group II", and lists a truly staggering number of formats in visual form.
http://www.quadibloc.com/comp/cp0201.htm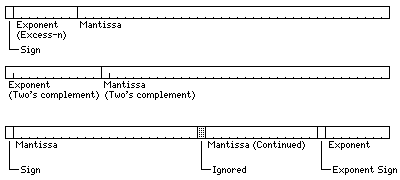 The Usenet discussion goes on to touch on quite a number of interesting historical formats, including some BCD and other "unusual" formats by modern lights.
An interesting note on floating point formats is that IEEE 754 seems to descend from the Digital PDP-10 format by way of the PDP-11 and then the Intel x87. The PDP-11 format is derived from the PDP-10, but the loss of four bits of space in the significand was felt keenly, so the designers introduced an implicit 1 bit on the significand (effectively giving it one more bit of precision, bringing it to 33 bits). Interestingly this required an exception in the format for the value zero (so that it could be represented as all zero bits), where that implicit 1 bit is an implicit zero. However, the PDP-11 (and the later VAX) did not take it farther than that exception. The x87 format (which was proposed by Intel and later became IEEE 754) used the resulting zero exponent as what is now termed a de-normalized value, which allows for "gradual underflow" in IEEE 754 terms; values very close to numeric zero are evenly spaced at the minimum spacing allowed by the length of the significand.
(The PDP-11 and VAX had another problem, which is that they were stored "stupid endian", with little endian 16-bit words arranged in big-endian sequence; this is sometimes called "PDP-endian", or even "NUXI", for the order of the letters in the word UNIX stored in that format.)